Green arts fest in Provincetown springs up to celebrate Earth Day
PROVINCETOWN — April is the month when all kinds of things start to appear on the Outer Cape — flowers and birds, bugs and critters, maybe some tourists on the weekends. This year, blossoming along with all of that will be "Appearances, Provincetown Green Arts Festival," sponsored by the Provincetown Conservation Trust.
The festival runs from Friday, April 15, through Sunday, April 24. The long list of activities and events begins at 5 p.m. Friday with a reception at Provincetown Center for Coastal Studies, and a later reception, at 8 p.m., at Appearances headquarters, a venue at 53 Bradford St., across from Shank Painter Road, that will host coffee hours, folk music, readings and discussions.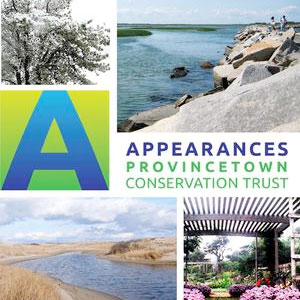 "The focus is to bring together the arts and environment, which are the lasting themes of what makes Provincetown so special and important," said Tina Trudel, who along with her partner Dorothy Palanza, is coordinating much of the activity.
Trudel said the trustees felt that it would be helpful for the conservation trust to have a forum to build membership and donations, and a positive way for the town to commemorate Earth Day, which is Saturday, April 23.
"It's a great opportunity, before the season, to be able to have artists show their work," Trudel said. Calls for submissions for "green" art were distributed to many art schools and Trudel said that artists from all age spectrums and from around the world answered, many provided with free housing set up by the trust and volunteers.
Read more: Green arts fest in Provincetown springs up to celebrate Earth Day – - Wicked Local Provincetown http://www.wickedlocal.com/provincetown/news/x432878960/Green-arts-fest-in-Provincetown-springs-up-to-celebrate-Earth-Day#ixzz2E3Eypsx"j