Post-millennial Jonah
curated by Dorothy Palanza
Opening Reception: Friday, December 7th, 2012 from 6 to 8 p.m.
Show Dates: November 30. 2012 – January 3, 2013
Miami Beach, FL – This art installation curated by Dorothy Palanza, who also is creating the central exhibits of the show, brings together work by various artists with the intention of bringing a different perspective of the ocean as an environment to exist in, where air space becomes water space that viewers walk through. A video/poem collaboration by Elizabeth Bradfield and Demet Taspinar will be part of the show. Bradfield is currently the Poet-in-Residence at Brandeis University. Demet's work has been shown at Art Bosphorus, Canakkale Art Biennale in Turkey, and the Tate Modern in London.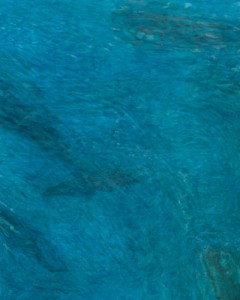 Dorothy Palanza is an artist whose work is deeply rooted in the experiential. The whales that inhabit the waters surrounding her home in Provincetown, Massachusetts inspired this endeavor. The installation as well as the drawings and painting included in this show are expressions/manifestations/results of exploration into the whales in their environment and the interaction of our two sentient species. As an invited collaborating artist at the Provincetown Center for Coastal Studies, Palanza had access to archival photographs and information that provided a starting point for her work.
A portion of sales will benefit the Provincetown Center of Coastal Studies (PCCS). The mission of the PCCS is to conduct scientific research with emphasis on marine mammals of the western North Atlantic and on the coastal and marine habitats and resources of the Gulf of Maine. Richard Delaney, President & CEO of the PCCS will be in attendance.
For more information, call 786-359-4321 or visit williamsmccallgallery.com.
The Williams McCall Gallery is the newest addition to the trendy South of Fifth neighborhood of South Beach, and the first fine art gallery in the area. The stylishly minimalist gallery exhibits emerging, mid-career and established artists creating contemporary paintings, works on paper, fine art photography, encaustic collage and sculpture.
Williams McCall Gallery is opened from 11 – 6 pm Tuesday – Saturday. Sunday and Monday by appointment only.
The Art Basel hours (December 6-9) will be 11 am – 9 pm.
Dorothy Palanza was born in Massachusetts, growing up in a classic Italian-American family. She maintains both Italian and US citizenship, is fluent in multiple languages, and has traveled throughout Europe, the Middle East, North Africa and the Americas. Palanza is a graduate of the Massachusetts College of Art and Design (BFA) and the University of Massachusetts, Amherst (MFA), studying painting with Jeremy Foss and John Grillo (thesis advisor, a student of Hans Hoffman), and printmaking with Fred Becker. In the following years, she worked as a muralist, fine artist, decorative painter and designer, first in New Orleans and then in NYC, where she established a following and works to this day. She apprenticed as a decorative painter with European master Alfred Junke and NYC's Vincent Inamorata, and in 1992, founded Colorfields Studio, a fine art, decorative painting, restoration and design studio. During 1999, she moved Colorfields Studio to Berlin, living and working there and in NYC. In 2008, Palanza relocated Colorfields Studio to Provincetown, MA, the oldest continuous art colony in America, and in 2011, opened a new studio in NYC (Tribeca). Palanza has always felt passionately about painting and working with color. A rich knowledge of paint chemistry, and effects of color, form and texture on large surfaces, is evident in her work. Resisting thematic conventions, her work reflects the personal, environmental and sociocultural influences from her life experience and extensive history of exploration and collaboration in the arts. Palanza has had numerous group and solo shows, museum exhibits, and is collected by private patrons internationally. In addition to her fine art, decorative, restorative and design endeavors, she has also co-authored screenplays, animated series, and two popular European children's books, 'Helma legt los' and 'Helma legt die Gockel rein'.